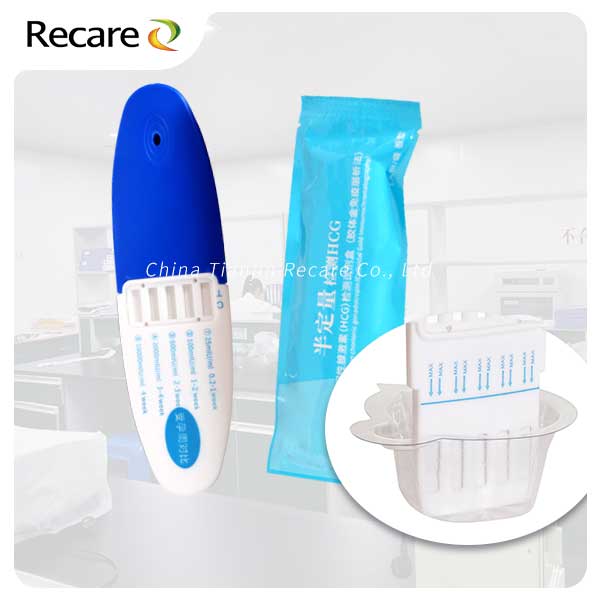 rapid test factory hcg home semi quantitative pregnancy test
OEM/ODM:Accept
Model: semi quantitative hcg test midstream
Expiry Date: 2 years
Instrument Classification: Class II
Quality Certification: CE, ISO, SABS, Directive 93/42/EEC,FREE SALE CERTIFICATE.
Sensitivity: 25mIU/ml
Accuracy: 94%
Specimen: Urine
Storage: 4~ 30°C (room temperature)
Scientific name: Semi-quantitative hCG One-step Pregnancy Test(5 in 1 dipcard)
Semi quantitative hcg at home test:
The Semi Quantitative Hcg Test (5-in-1 DIP), is for self-testing and IVD use. This rapid test kit can answer two questions of the user 1. Am I pregnant? 2. How long have I been pregnant? It can measure the concrete weeks of pregnancy more precisely than the clear blue. In addition, if used continuously, the color of the test line in the test result does not darken proportionally, indicating a possible abnormal pregnancy.
The semi quantitative pregnancy test displays results based on the concentration of hCG levels detected. A dipcard consists of five HCG strips with different minimum values.
Detection concentration: Strip I/25mIU/ml, Strip II/100mIU/ml, Strip III/600mIU/ml, Strip IV/2000mIU/ml, Strip V/10000mIU/ml
The advantages of semi quantitative hcg test kits are:
1. Convenience: Semi quantitative hcg home test are easy to use and can be performed at home without the need for specialized equipment or training.
2. Early detection: Semi quantitative pregnancy test at home can detect pregnancy as early as a few days after a missed period, allowing women to start prenatal care early.
3. Semi-quantitative results: Unlike traditional pregnancy tests that only provide a positive or negative result, semi hcg quantitative urine test provide a range of results that can indicate the approximate level of the pregnancy hormone, hCG, in the urine.
One semi quantitative pregnancy test in a foil pouch, 1 pouch + 1 manual in a box.
We support custom packaging according to your needs.
We are professional rapid test factory. Our state-of-the-art manufacturing facility utilizes the latest technologies to produce test strips that are accurate, reliable, and easy to use.
Our rapid tests are designed to provide fast and accurate results for a wide range of analytes, including quantitative pregnancy test at home, ovulation test, disease test, drug test, and more. We offer a variety of formats, including midstreams, cassettes, strips and multi-panel tests, to meet the specific needs of our customers.
In addition to our standard product offerings, we also offer custom ivd test kit manufacturing services.
just 5 steps , you can order from us
Step 1, pls let me know which test you need, strip or cassette ?
Step 2. your requirements about the package , such as how many pieces in a box…
Step 3. How many quantity you need?
Step 4. If you need customized brand, pls give us your design. Step 5. We quote to you. After you confirm we can sign contract. Our normal payment term is 30% as deposit , the balance will be paid before shipping . Normal delivery time is 30working days to 50 working days.